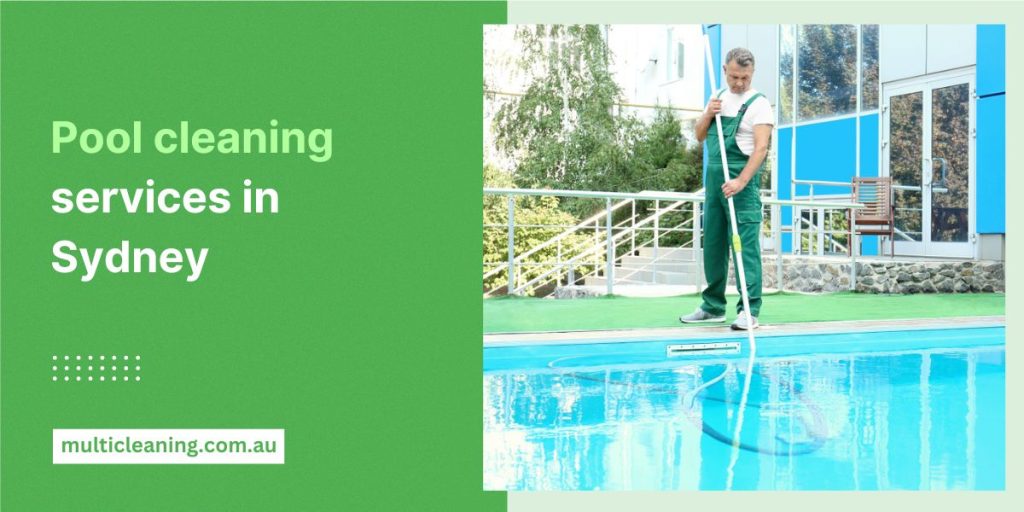 An Overview Of Pool Cleaning Services In Sydney
Swimming is one of the most enjoyable activities that lure people to Sydney. And they ensure their way to a well-maintained pool to explore fun and grab opportunities to feel rejuvenated. But, if the pool is dirty, it puts people's health at risk and thus also negatively impacts their safety. So, it's the responsibility of pool owners to clean the pool to maintain hygiene and make it aesthetically pleasing. It is mandatory to hire professional pool cleaning services in Sydney.
The main benefits of hiring experts for pool cleaning are they do their tasks with a proper strategy and also use the right equipment. They use eco-friendly cleaning products for pool cleaning in Sydney to reduce the growth of harmful bacteria and viruses. And thus minimize the chance of harmful water-related diseases. Hiring an experienced pool cleaning service provider also ensures less maintenance and higher performance of pool equipment.
Complete Pool Cleaning Services In Sydney
Pools can attract dirt, debris, etc. which cause serious health issues and can make you unhealthy. Therefore, regular maintenance of your pool is essential. And you can opt for pool cleaning services in Sydney for getting the required services. Pool cleaning services in Sydney include a range of chores, right from daily cleaning to maintenance of equipment.
The main aim of pool cleaning services is to ensure crystal clear water and thus make you stress-free as a pool owner. From routine maintenance to brushing the floor and pool walls, professionals do everything to clean the pool and maintain hygiene. They remove the buildup of dirt and debris from the water's surface. They also make pool baskets empty to improve circulation and filtration efficiency.
Apart from this, technicians test and then balance the chemistry of pool water while ensuring the correct pH level and also do proper sanitization for keeping water fully hygienic and safe for those who enjoy swimming in the pool. These professionals have an in-depth understanding of various intricacies of different pool types and also their equipment.
Regular Pool Maintenance
A professional pool cleaning expert possesses specialization in cleaning different types of pools be it luxurious infinity pools, above-ground pools, or in-ground pools. They have required expertise in handling various pool equipment issues, and also do timely repairs, and also ensure the longevity of the pool.
Outsourcing pool cleaning tasks is something that is the most preferred option for pool owners in Sydney. It not only saves time but also offers great peace of mind. It gives you a kind of surety pool in the hands of professionals. Regular pool maintenance is necessary for swimmers to avoid skin irritation and thus helps them become safe and healthy.
Services Included In Sydney Pool Cleaning
Pool cleaning services in Sydney include various chores. Following are some of the chores that pool cleaning professionals do;
Surface Cleaning
Surface Cleaning is one of the crucial tasks that most pool cleaning professionals do. They remove insects, leaves, and other debris that float on the surface of the water. It prevents filter clogging and also ensures the pool's mind-blowing look.
Vacuuming And Brushing
Brushing is another crucial activity that cleaners in Sydney perform. They brush to remove stubborn particles. They then perform vacuuming to eliminate the loosened debris from the pool, leaving it pristine.
Equipment Inspection
Skilled technicians also do inspections and required maintenance for pool equipment. Be it heaters, pumps, or automated, they clean equipment to detect any issues. They also do timely replacements or repairs that can extend the lifespan of pool equipment. It prevents potential breakdowns and is thus right for saving money.
Water Balancing
As mentioned above, appropriate water chemistry is essential for a comfortable and safe swimming experience. Professionals are responsible for testing the water chemistry and adjusting the water's pH levels accordingly. They also ensure proper levels of chlorine content, alkalinity, etc., to ensure water is fully balanced. It prevents harmful algae and bacteria.
Filtration System Maintenance
The pool's filtration system plays a crucial role in maintaining water clarity. Regularly inspect and clean the pool filter according to the manufacturer's guidelines. Backwash or clean the filter cartridge as needed to ensure optimal filtration. A clean filter efficiently removes smaller particles and contaminants, preventing them from clouding the water.

How To Hire A Professional For Pool Cleaning Services
Hiring a professional for pool cleaning services in Sydney is a highly responsible task, as you will come across various reputed service providers. You can try the following tips to hire the best and a reliable company.
Do Proper Research
Research is necessary to get an idea of the best pool cleaning service providers in your location. You can always approach your family, friends, and neighbours having pools and hire these service providers. It's good to perform your research work online by visiting various websites like social media, review websites, and more. You should always find a company that has positive reviews and a good reputation in the industry.
Check For Insurance And License
Before you finalize any deal, ensure the pool cleaning services near you are licensed and insured. Licensing indicates credibility and also adherence to the different industry standards. Insurance, on the other hand, gives protection from any accidents and liability.
Types Of Offered Services
The next task you need to do is determine the services that every professional offers, including chemical balancing, routine cleaning, equipment maintenance, and repair work.
Discuss Scheduling And Frequency
Discuss the frequency at which you would like the pool cleaning services to be performed. Professionals typically offer one-time, weekly, bi-weekly, or monthly cleaning options. Choose a schedule that aligns with your pool usage and maintenance requirements.
Request For Quotes
You can approach multiple pool cleaning service providers to get quotes. You need to request detailed quotes for the services that you need. After this, you can compare different quotes obtained by service providers. It helps you determine the actual value of money you will get for the price you pay.
You can always remember that the cheapest is not always the best option for you. So, you should avoid hiring an affordable company. Instead, you should hire a commercial cleaning company that commits to delivering top-quality services.
Conclusion
Pool cleaning services are essential for every pool owner. After going through the above blog, you may now have detailed information related to pool cleaning services. If you own a pool, you must hire a genuine and reliable professional like Multi Cleaning that promises to deliver world-class pool cleaning services.