Covid Cleaning Services Sydney
Covid cleaning in Sydney for safe places
100% Reliable Covid Cleaning in Sydney
Multi Cleaning is dedicated and thoroughly equipped to provide the highest level of safety and protection against the spread of COVID-19. Our certified covid cleaning experts carry years of field experience and use advanced techniques to thoroughly sanitize and disinfect any type of space, from offices, schools, healthcare facilities, gyms, and more.
We understand the importance of maintaining a clean and healthy environment, especially during these challenging times. Rely on our expert team that's committed to delivering the peace of mind you need. Trust Multi Cleaning for all your COVID cleaning needs and keep your spaces protected and safe.
Our trust-worthy covid cleaning services include
We can assist you with all your diverse types of commercial cleaning services.
Welcome to Multi Cleaning
Book in under 60 seconds
Stop Googling for covid cleaning services near me.
At Multi Cleaning, we prioritize the safety of our clients and staff by conducting temperature checks and equipping all covid cleaners with proper PPE before they arrive at your location. Our thorough covid cleaning process follows strict standards, leaving no corner unattended and ensuring complete sanitization of your space. We offer our covid cleaning services at affordable prices, recognizing the importance of COVID cleaning services in Sydney. Our commitment to quality extends to the supplies we use, which are carefully selected to be safe and non-toxic. Trust Multi Cleaning for a thorough, safe, and affordable cleaning experience.
Get a Free Quote
Fill us up with what you are looking for!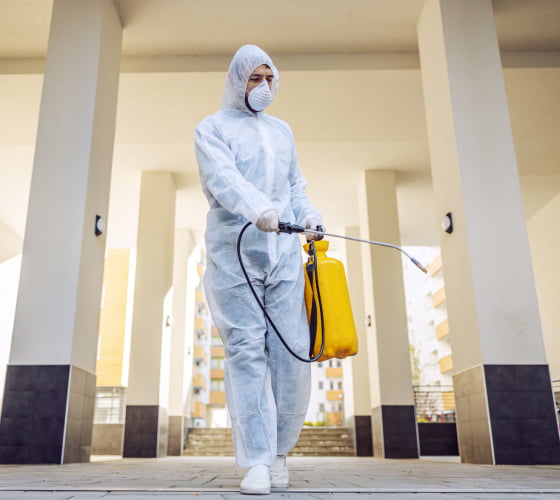 Hiring reliable Covid cleaners is easy with us!
Importance of Covid cleaning in Sydney
Hiring professional covid cleaners ensures that your space is thoroughly sanitized and disinfected, reducing the risk of transmission or escalation. Cleaners with the proper training, experience, and equipment can effectively eliminate the virus from high-touch surfaces and frequently used areas. This helps to create a safe and healthy environment for every client or employee that enters the space.
In addition, professional cleaners have access to high-quality and safe cleaning supplies, ensuring that your space is not only clean but also protected from harmful chemicals. They also follow strict cleaning protocols and guidelines to ensure maximum effectiveness and safety.
Get free quote
The covid cleaning company you can fall back on.
Our covid cleaners are dedicated to providing unparalleled service and this unwavering commitment to excellence has made us the go-to choice for many businesses. Our focus on quality and customer satisfaction is what sets us apart and has earned us a reputation for delivering outstanding results.
Book an Instant Appointment
Clients choose us over other Covid cleaning companies!
We offer the most trustworthy solutions under your budget.
Our commercial cleaning clients review.
Real People. Real Stories. Real Satisfaction.
Childcare cleaning service you cannot overlook!
Get your space refreshed, sanitized, and safe in no time.
Hire our professional covid cleaning services Sydney
At Multi Cleaning, we are committed to delivering outstanding service and upholding a consistent standard of excellence. Our quality assurance process guarantees that we consistently meet and exceed your expectations. Say farewell to the stress of managing individual cleaners or in-house teams. We provide comprehensive covid cleaning services in Sydney, including all necessary supplies, tools, and resources, at a highly competitive covid cleaning price in Sydney Get in touch with us to explore our pricing options and experience exceptional results.
Talk to us now and we'll help you achieve complete peace of mind in no time.
Sydney Covid Cleaning: Frequently Asked Questions
We're here to answer all your queries before you get started with us!
What does "covid cleaning" mean and why is it important?
Covid cleaning is the process of sanitizing and disinfecting surfaces to minimize the spread of the novel coronavirus. It is crucial to maintain the health and safety of people in public spaces.
What steps are involved in a covid cleaning service?
A covid cleaning service typically involves surface preparation, cleaning, disinfection, and ventilation. Trained cleaners use appropriate disinfectants and follow established protocols to thoroughly clean and sanitize all high-touch surfaces.
Why hire a covid cleaning company in Sydney?
While it is possible to clean and disinfect on your own, it is recommended to engage professional cleaners to ensure that the job is done thoroughly and correctly.
What kind of cleaning products are used in covid cleaning?
Cleaners typically use approved disinfectants, gloves, masks, and other PPE during covid cleaning. The products used should be effective against the novel coronavirus and safe for the environment being cleaned.
How often should a covid cleaning be performed?
The frequency of covid cleaning depends on the type of environment and the level of foot traffic. It is recommended to have a professional cleaning done regularly, such as once a week or as needed, and to maintain good hygiene practices, such as regular hand washing and cleaning of high-touch surfaces.
View all FAQ's
Cities we cover commercial cleaning in Australia
We're here to clean the entire breadth and width of these major cities!