Warehouse Cleaning Services Sydney
Trust-worthy warehouse cleaning Sydney
Crisply warehouse clean and fresh premises is waiting.
Looking for a professional and reliable warehouse cleaning service? Look no further than Multi Cleaning! Our highly skilled team of cleaners is dedicated to providing exceptional cleaning solutions that meet your unique needs. We understand that every warehouse is different, which is why we offer customized packages that are tailored to suit your requirements.
Our comprehensive warehouse cleaning services include dusting and cleaning all surfaces, floor cleaning, restroom cleaning, and sanitizing high-touch areas. We utilize state-of-the-art equipment and eco-friendly cleaning products to deliver the highest quality results. With our attention to detail and commitment to excellence, you can trust that your warehouse will be maintained to the highest standards. Contact us today to learn more about our warehouse cleaning services and receive a free quote for your specific requirements.
Warehouse cleaning services we offer in Sydney.
Giving you a clean warehouse picture is our game. Hire our warehouse cleaners today!
Get started today!
Book in under 60 seconds
Stop your search for warehouse cleaners near me.
At Multi Cleaning, we prioritize the safety and well-being of both our clients and staff, which is why we take all necessary precautions, such as conducting temperature checks and providing appropriate field training to our cleaners before they arrive at your warehouse for cleaning. Our team follows strict cleaning protocols to ensure complete sanitization of your space, leaving no area unattended. Multi Cleaning's commitment to excellence extends to our non-toxic cleaning supplies, EPA-approved, DfE quality assured, and safe for both human health and the environment. We are always on time and follow a diligent process to ensure that all your cleaning needs are met. We are now offering a free quote after a thorough on-site inspection by our field experts. Contact us to know more!
Get a quote
Get Free Quote
Fill us up with what you are looking for!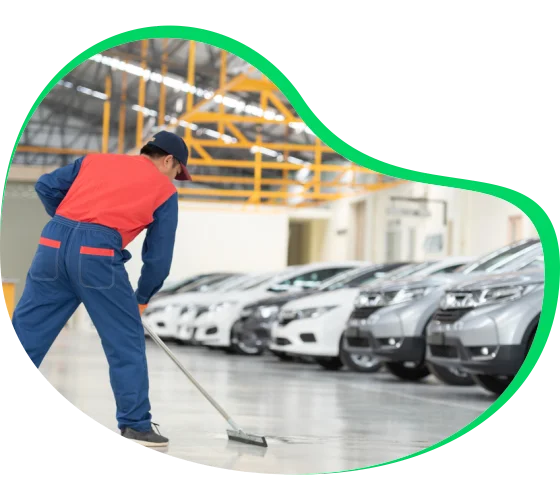 Eco-friendly Warehouse Cleaning Sydney
Benefits of warehouse cleaning services
Proper warehouse cleaning can have significant benefits beyond just arriving at a well-maintained space. A clean and organized warehouse can help increase productivity by making it easier for workers to locate and access items, reducing the time it takes to find and retrieve items. Additionally, a clean warehouse can reduce the risk of accidents, such as slips and falls, by ensuring that walkways are clear and free from debris. Regular warehouse cleaning and maintenance can also improve the indoor air quality of your warehouse by reducing the build-up of dust and other contaminants.
Get Free Quote
Hire a professionally accredited cleaning warehouse Sydney
At Multi Cleaning, we have a team of highly committed and dedicated cleaners who strive to provide exceptional service that goes beyond industry standards.
Book Cleaning Instantly
Businesses prefer us over other warehouse cleaning companies!
Get in touch with us to know more about our packages. We have over 10+ years of experience in handling diverse kinds of sensitive requirements. You can trust us to handle all your warehouse cleaning needs with the utmost care and professionalism!
Our clients over the years vouch for warehouse cleaning!
These are all real people with real stories of satisfaction…
Achievements of our warehouse cleaning company in Sydney
Most trustworthy warehouse cleaners in Sydney
Redefining warehouse cleaning services in Sydney!
Warehouses are a crucial part of a business, and proper maintenance is essential to avoid product damage, losses, and misplacements. Dust, dirt, and germs can accumulate over time, affecting the overall morale of the employees and reducing productivity. Hiring a professional cleaning company like Multi Cleaning can transform your premise and provide a new outlook, ensuring that it is clean, well-organized, and free from health hazards. Our team of diligent cleaners follows eco-friendly cleaning practices and standard procedures to deliver affordable cleaning packages, customized to meet your specific needs. Trust us to maintain a hygienic and safe warehouse environment. Contact us now to get a free quote for all your niche cleaning requirements.
Frequently Asked Questions For Warehouse Cleaning Sydney
Here's a little something that can get you to understand us better
Why do I need professional warehouse cleaning services in Sydney?
A professional warehouse cleaning service can help keep your business running smoothly by maintaining a clean and organized work environment. This can help prevent accidents, improve productivity, and ensure that your products are kept in good condition.
How often do I need to schedule warehouse cleaning services in Sydney?
The frequency of cleaning depends on the size of your warehouse, the number of employees, and the nature of your business. A professional cleaning service can assess your needs and provide a customized cleaning schedule that suits your requirements.
Does Multi Cleaning go with eco-friendly cleaning products?
Yes, we prioritize the use of eco-friendly cleaning products that are safe for the environment and do not harm human health. We believe in sustainable and responsible cleaning practices.
Can you clean hard-to-reach areas in my warehouse?
Yes, our team of experienced cleaners is equipped with the right tools and equipment to clean even the most hard-to-reach areas in your warehouse, such as high ceilings and narrow aisles. They're also native-English speakers who will be convenient to take in any additional requests while cleaning
How do I book an warehouse cleaning appointment with Multi Cleaning?
Answer: You can easily book our services by contacting us through our website, email, or phone. Our team will provide you with a free quote and work with you to create a customized cleaning plan that meets your specific needs.
View all FAQ's
Cities we cover warehouse cleaning in Australia
We're here to clean the entire breadth and width of these major cities!